MacDonald Mines Exploration Ltd.

Mining, Precious Metals, Industrial

TSX-V: BMK, OTC: MCDMF, Franfurt: 3M72, http://www.macdonaldmines.com

Prices

Share: C$0.23

MCap: ~C$13.8M

On: 03/31/2017

History

52-Week: C$0.005–C$0.27

Prices

Shares O/S: 59,638,874
Fig. 2 (below) Oxide Sands Wawa-Holdsworth Property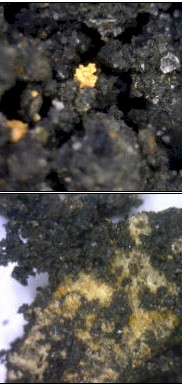 Investment Thesis -- Near-term (12 month) TSX-V:BMK share price target; C$1.50
MacDonald Mines Exploration Ltd. (TSX-V: BMK) (US Listing: MCDMF) (Frankfurt: 3M72) this week announced 100% LOI ownership of the Wawa-Holdsworth Gold Project with terms that point to an imminent production scenario; aside from 5.5 million shares of BMK.V issued (along with equal warrants exercisable at $0.30 -- something we like to see as the belief is share price of BMK.V will rise substantially) and a partially repurchasable 1.5%NSR, the bulk of the principle consists of MacDonald Mines paying the equivalent of 5,000 ounces of gold equivalent to Noble once MacDonald has extracted, refined and sold a minimum of 50,000 ounces of gold from the oxide sands portion of the Property.

In brief, the oxide sands are the cap of the pyrite prospect on the property, which to date is just over 2,200 metres long and has a defined historic (non NI 43-101) resource of sulpher but never tested for Gold until 1988 (it was noted to have gold in it from trace to over 8 g/t, however no assaying was done for silver at the time). 43-101 compliant drilling in 2002 covered 332 m of strike length (of the 2,200 m); within that known length and extrapolated for tested widths + estimated depth we get sizeable tonnage of apparent ~3.45 g/t Gold (average grade tested) and ~29.99 g/t Silver (average grade tested) ready for the taking. Extrapolating that known 332 m length (x ~6) over the 2,200 m there appears 146,000 tonnes of such material for the taking in the initial strike set. The average depth based on historic drill holes would be much larger as far as surface extraction goes. The assumption on a parallel and multiple sets of sulphide sands is valid and has been proven in drill holes -- this rationalizes 550,000 to 675,000 tonnes (not yet NI 43-101, but the science is there to more than support an ~81,700+ ounce Gold equivalent target), most of which can be self financed from production that appears to require little capex at all to begin. Neither aggregate licencing nor bulk sampling permissions will be required for the extraction of the oxide sands on the Wawa-Holdsworth Project.

Market Equities Research Group projects (non NI 43-101) along the initial strike set of sulphide sands alone:
| | |
| --- | --- |
| Gold Oz | Silver Oz |
| 146,000t | 146,000t |
| @3.355 g/t | @29.2 g/t |
| 15,750 oz | 137,000 oz |
| Can$1,500.00/oz | Can$20.00/oz |
| Can$23,625,000 | Can$2,740,000 |
Table 1. Guesstimate of gold in initial strike set of sulphide sands alone.
and >four times that (totaling 675,000 tonnes = ~72,800 oz Gold, ~633,700 oz Silver *non NI 43-101 = ~81,700 oz Gold Equivalent (using US$17/oz Silver and US$1,200/oz Gold conversion) on parallel and multiple sets which have been proven in drill holes. Note: Values derived are based on past exploration results of Reed Lake Exploration (pre dating NI 43-101) and Hawk/Nobel's exploration results (NI 43-101 compliant) which affirm 550,000+ tonnes.
Gold Oz

Silver Oz

675

,000t

675

,000t

@3.355 g/t

@29.2 g/t

72,800 oz

633,700 oz

Can$1,500.00/oz
Can$20.00/oz

Can$109,200,000

Can$12,674,000
Table 2. Guesstimate of gold from initial strike set and parallel/multiple sets.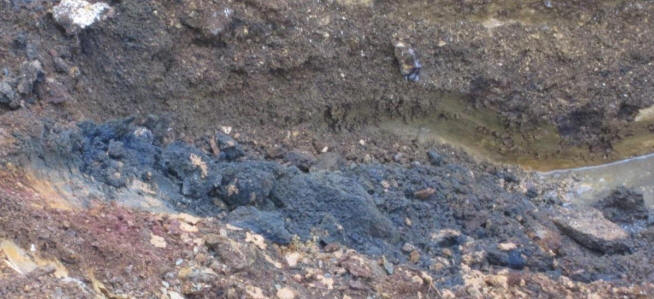 Fig. 3 (above) Exposed gold laden black oxide sands.
Oxide Sands can be treated like aggregate. Visible in the images of black oxide sands (seen in Fig. 2 above) taken from the property is gold and some course grain quartz (which likely also contain gold). The oxide sand zones appear amenable to MacDonald Mines simply obtaining a permit for mining aggregate; backhoe the material, then crush and ball mill the material (to maximize recoveries), and transport the floured material to one of the several mills located within a few kilometers of the property. Works programs underway this spring 2017 are geared towards affirming a voluminous and robust understanding of these Oxide Sands Zones -- the potential for substantial share price appreciation closer to $1.50/share from current price levels appears in order as exploration findings/results affirm what is suspected.
Figure 4. Wawa-Holdsworth Gold Zones -Three styles of gold mineralization exist on the original 285 hectares Wawa-Holdsworth project (the Company has since added 84 claims of similar ground nearby), all part of the same gold system within the 500 metre-wide deformation corridor.

The three gold mineralization styles on the property (and shown in the claims map above) are:
An oxidized cap at surface developed over a massive pyrite zone (Algoma Iron Formation) -- "The Oxide Sands",

The precursor to the Oxide Sands - a massive pyrite zone (Algoma Iron Formation) at depths -- "The Massive Sulphide", and

Lode Gold in traditional quartz veins -- "The Soocana Vein"; noteworthy historic (non NI 43-101 compliant) drilling intersections include 16g/t gold over 4.3 m, and 6.9 g/t gold over 15.8m and demonstrates the potential. In 1933 the Soocana Mining Company Limited calculated a gold resource (historical non NI43-101) of 54,000 tons of material grading 0.556 oz/t (19.06 g/t) -- this is historic resource was never mined!
Sample of exploration results in support of Company's 50,000 oz Gold target on Oxide Sands:
In 2002, the Oxide Sands were sampled over 332.5 metres along strike. They were reported to reach a depth of at least 8 metres and contained an average gold grade of 3.45 g/t and an average silver grade of 29.99 g/t. Preliminary metallurgical testing resulted in between 69% and 98.7% gold recoveries, without even crushing.
Results from the 2002 Sampling Program:
BLOCK

Block #

A

(m) LENGTH

(m)AVERAGEWIDTH

(m) AVERAGE DEPTH

SPECIFIC GRAVITY

INDICATED TONNES

GOLD GRADE

(gms/tonne)

SILVER GRADE

(gms/tonne)

A-1

30.0

6.9

4.65

2.5

2392

4.92

25.22

A-2

13.5

5.3

3.00

2.5

540

5.76

42.65

A-3

31.0

4.7

3.35

2.5

1228

5.95

47.09

A-4

10.0

3.5

3.74

2.5

328

5.94

50.78

A-5

24.0

2.9

3.66

2.5

630

5.10

50.14

A-6

8.0

5.3

5.49

2.5

583

2.99

36.01

A-7

11.5

7.5

5.03

2.5

1080

1.74

21.29

A-8

20.0

6.3

3.65

2.5

1140

0.85

9.91

Sub-total

148m

5.3

4.07

2.5

7921

4.03

30.89

BLOCK

B

B-1

21.0

6.4

1.92

2.5

645

1.17

17.43

B-2

53.0

3.8

1.14

2.5

576

1.20

17.94

B-3

17.5

2.8

1.60

2.5

193

3.04

44.06

B-4

17.5

5.5

3.20

2.5

769

3.88

50.56

B-5

10.0

5.5

3.20

2.5

439

3.51

41.28

B-6

45.5

3.6

2.28

2.5

944

1.84

16.83

B-7

20.0

3.0

1.83

2.5

275

1.54

18.6

Sb-total

184.5

3.8

1.87

2.5

3839

2.27

28.14

TOTAL

332.5

4.55

2.97

2.5

11760

3.45

29.99



Table 2. Drill Results within one section of Oxide Sands sound within Pyrite Prospect.
Historic (non NI 43-101) sulphide resource:
The Holdsworth Pyrite Prospect consists of massive lenses of pyrite situated at the contact between mafic and felsic metavolcanic rocks. These lenses trend approximately east-west and dip steeply towards the north. They are locally cut and offset by north-northwest trending faults. At present, five related zones have been confirmed by surface stripping and prospecting and several others indicated by ground geophysical surveys. The five confirmed zones (the 'East', 'East Extension', 'East Offset', 'West' and 'West Offset') have a combined strike length in excess of 2200 meters. Two drill programs completed from 1918 to 1926 (Algoma Steel Corp. and the Grasseli Chemical Co.) identified an iron reserve of 1,019,273 tons of 46 % sulphides within what is herein referred to as the East Pyrite Zone.

The oxidized material that forms a "cap" to the Holdsworth Pyrite deposit has been described by old-time prospectors as a 'black sand'. It consists of siliceous grains and non magnetic iron oxide pellets ranging from a few centimeters to several microns in size. It is assumed to be the oxidized equivalent of the underlying massive iron sulphide. The underlying sulphides typically contain up to 5% sugary to greasy quartz stringers and ribbons which are found locally within the black sand. The sulphide zones are frequently anomalous in gold. Assays from a number of drill holes (Band, 1983; Sears, 1989) have ranged from nil to 0.056 oz/ton, Au. The best intersection to date was from Hole R26 (Reed Lake Exploration, 1988) which contained a 6.1 meter (20 foot) section assaying 1.06 g/t (0.031) oz/ton, Au. The enriched gold values in the overlying material are assumed to be related to the oxidizing and weathering process.
Location details: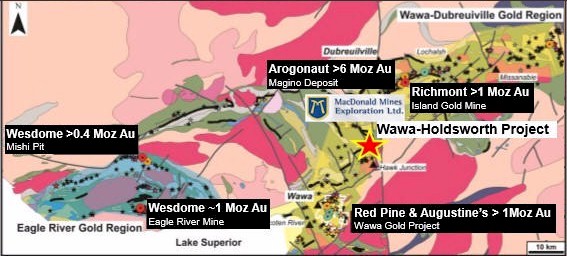 Figure 4. Regional Location Map - Wawa-Holdsworth Gold Project is located 25 km NE of Wawa Ontario, Canada, uniquely positioned proximal Argonaut's >6Moz Au Magino deposit property, and Richmont's >1Moz Au Island Gold Mine, along an underexplored extension of the prolific Michipicoten Greenstone Belt. Within a few km of impressive gold deposits of miners whose deposits keep growing, and mills. There is road access to the property, it is close to power, rail, and a stable workforce, in a mining-friendly region.

------ ------ ------ ------ ------ ------ ------ ------ ------

# #


This release may contain forward-looking statements regarding future events that involve risk and uncertainties. Readers are cautioned that these forward-looking statements are only predictions and may differ materially from actual events or results. Readers are cautioned that not until subject companies actually releases official details themselves should anyone rely on the information presented herein. Articles, excerpts, commentary and reviews herein are for information purposes and are not solicitations to buy or sell any of the securities mentioned.



Contact information:
Fredrick William, Editor in Chief

Market Equities Research Group
f.william@marketequitiesresearch.com