Market Equities Research - Market Bulletin October 9, 2020 1:47 PM ET
The Hottest Gold Exploration Area in Canada is Growing Even Hotter
Red Lake District companies and properties discussed in this report:
- Great Bear Resources Ltd. (TSX-V: GBR) (OTCQX: GTBAF),
Dixie & Sobel Properties -- The hottest exploration play in Canada right now; LP fault is "in a league of its own".
- PureGold Mining Inc. (TSX-V: PGM) (LSE: PUR),
Red Lake Mine -- first gold production still scheduled for late 2020. Anglogold Ashanti exercises warrants, investing another $5M in August.
- Straightup Resources Inc. (CSE: ST),
RLX & Belanger Properties -- Great Bear Resources has identified target zones on its new Sobel Property that is directly adjacent to Straightup Resources' RLX. After discovering a world-class 11+ km long high-grade gold system on its Dixie property, Great Bear Resources geologists took their improved understanding of the area geology and decided to acquire a select few new claims that they believe to be most prospective for major discovery. Straightup Resources acquired its claims prior to Great Bear announcing it had selected this ground and is highly prospective for major gold discovery of significance.
------ ------ ------ ------ ------ ------ ------ ------ ------
Red Lake in Ontario, Canada, is one of the more prolific gold mining districts in the world with ~29 million oz gold having been produced from high-grade mines since 1925, >80% of this gold was produced from Evolution Mining's Red Lake Complex (formerly owned by Newmont). Today some of the most exciting exploration projects are ongoing in the district; e.g. Great Bear Resources is aggressively working its Dixie project just to the south of Straightup Resources' RLX Property, and PureGold Mining Inc. is on- track to commence production at its Red Lake Mine for the end of this year.
------ ------ ------ ------ ------ ------ ------ ------ ------
Update on Pure Gold Mining - Set to begin operations to pour first gold by years end: At 9 grams per tonne, its Red Lake Mine is one of the highest-grade gold mines on the planet (in fact, it's in the top 8th percentile).
Phase One will produce one million ounces of high-grade gold. At an all-in cost of less than USD $800 per ounce. Delivering a 51% IRR. And over 800 million dollars of pre-tax free cash flow over Phase One. Phase One construction and operational readiness is on schedule and on plan. The mill will start up on schedule. Ore has been mined and stockpiled above-ground as mill feed. Recruiting and hiring 300 miners and technical staff, most of whom live right next door in town, is well underway. PureGold's motivation for developing Phase One is simple: to create a pre-tax cash flow stream of over 800 million dollars which will fund (without dilution) robust drilling and discovery work, focused along the highly prospective 7-kilometre-long PureGold Trend. The strategy is to exponentially increase our high-grade gold resource and reserve numbers.

Phase Two. The goal for the next Phase of mining is to extract high-grade ounces of gold already drilled off in the immediate area of the Phase One mine. The strategy is to utilize the existing PureGold Red Lake infrastructure and mill in order to capture potentially the higher-profit margins that result from cost efficiencies and economies of scale.
For further insight on PureGold Mining Inc. see https://puregoldmining.ca
------ ------ ------ ------ ------ ------ ------ ------ ------
Great Bear Resources' Dixie Project is by far the hottest gold exploration play in Canada
The hottest spot for gold exploration in Canada in 2020 is in the Red Lake District, Ontario, where Great Bear Resources continues to encounter spectacular intersects along its LP Fault on its Dixie Project. In the last two years, there have been multiple high-grade gold discoveries on the Dixie Property; the Dixie Limb, Hinge, Arrow, Bear-Rimini, Yuma, Auro, Yauro, Viggo and Gap zones. The last six discovery areas are now considered one zone that is hosted by the LP Fault deformation zone, which overall is an 18km target that is continuously being explored by the company. The Dixie Limb, Hinge and Arrow have respectable classical Red Lake style deposits on them and each should make standalone successes, however the LP fault is in a league of its own.
Chris Taylor, the President, CEO, and Director of Great Bear gave the following description, "The LP fault reminds me of when you watch the old Star Trek movies; you've got the little space ship that gets swallowed by the big spaceship, and then there is the death star in the background – well it's a bit of a glib answer, but the LP fault is like the death star in just its scale and scope – the power in this case is the gold mineralization, it really is in a league of its own." – Source: September 29, 2020 interview
Figure 1. (below) Inclined plan view of drill results on the LP Fault: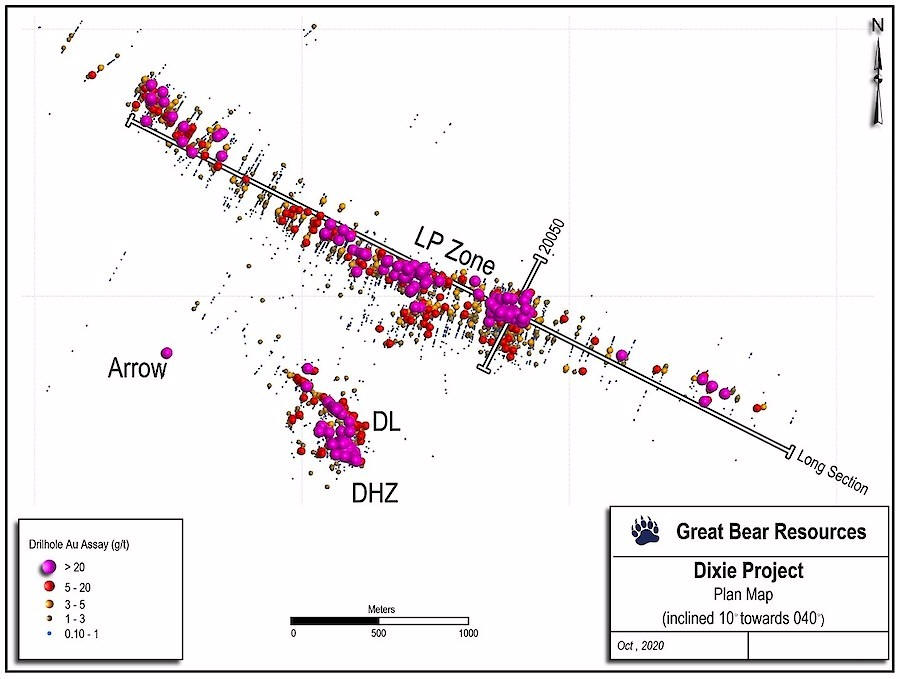 v
Figure 2. (below) Updated long section of LP Fault to date:
The above plan and long views were gleamed from Great Bear's October 7, 2020 press release "Great Bear Drills 18.58 g/t Gold Over 19.25 m, Reaches 100,000m Drilled in 180 Holes at LP Fault, and Provides Detailed High-Grade Drill Section".
Important takeaway – you can see all the pink (purplish) dots over the whole 5km of the LP fault that Great Bear is currently aggressively drilling – the pink dots are over 20 g/t! The Company is now up to 180 holes and has hit gold in every hole. When you consider that the first drill hole was only put into the LP fault in May of 2019, it is remarkable progress.
Trying to Quantify Just How Big the Dixie Project is Getting
A major world-class gold project is taking shape. There is no resource estimate calculated yet, however Analyst David Talbot of Eight Capital has attempted to quantify matters. The following is an excerpt from his September 9, 2020 report: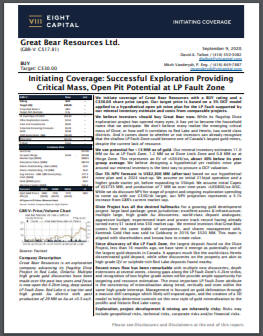 <== Click to view full Analysts Report [PDF]
https://sectornewswire.com/Eight-Capital-GBR-Sept9-2020.pdf
Excerpt:
We initiate coverage of Great Bear Resources with a BUY rating and a C$30.00 share price target. Our target price is based on a 5% DCF model applied to a hypothetical open pit mine plan for the LP Fault supported by our mineral inventory estimate and costs from comparable projects.
We believe investors should buy Great Bear now. While its flagship Dixie exploration project has opened many eyes, it has yet to become the household name that we anticipate. We don't believe many realize the emerging critical mass of Dixie, or how well it correlates to Red Lake and Hemlo, two world class districts. And it comes down to whether or not investors can already recognize that the shallow LP Fault Zone could become one of Canada's largest gold mines, despite the current lack of resource.
We see potential for ~13 MM oz of gold. Our mineral inventory estimates 11.0 MM oz Au at LP Fault Zone, 1.2 MM oz at Dixie Limb Zone and 0.8 MM oz at Hinge Zone. This represents an EV of <US$48/oz, about 40% below its peer group average. We believe designing a hypothetical yet realistic mine plan around our mineral inventory is the best way to procure a DCF valuation.
Our 5% NPV forecast is US$2,300 MM (after-tax) based on our hypothetical mine plan and a 2024 start-up. We assume an initial 21ktpd operation and a higher grade starter pit, before expanding to 55ktpd. We assume initial Capex of US$735 MM, and production of 7 MM oz over nine years <US$800/oz AISC. While we do discount NPV for stage of project and ongoing exploration spending to come up with our C$30/sh target, our NPV projection represents a 3.7x increase from GBR's current market cap.
Dixie Project has all the desired hallmarks for a growing gold development project: large land package; great jurisdiction; excellent access & infrastructure; multiple large, high grade Au discoveries; world-class deposit analogues; aggressive budget; experienced team and proven track record having already turned every $1 raised into $30 market cap. We remind investors that Great Bear comes from the same stable of companies, and shares management with, Kaminak Gold that was sold to Goldcorp in 2016 for $520 MM. This team is aligned with shareholders and knows how to create value.
...click to view full copy from source
The plan to grow even bigger
Obviously, going forward, the need to keep showing the continuity and size and the way the LP fault hangs together is where most exploration dollars (~90%) will be spent, with the balance being spent on showing concurrent growth on the other aforementioned target zones. Also of interest is repeatedly when Great Bear goes down to depth on all these targets, they intercept even more gold – this is the pattern in the Red Lake district; gold improves at depth. The initial first-pass resource will likely drill off a resource panel to 500 m and compliment it with deeper drill holes that wet the blue-sky potential of this beast, showing continuity at depth.
------ ------ ----- ------ ------ ----- ------ ------ -----
Great Bear's plan to repeat success of Dixie at Sobel, located directly adjacent Straightup Resources RLX Project
Straightup Resources Inc. is a new public company, trading under the stock symbol ST on the Canadian Securities Exchange. Straightup Resources is focused on advancing its flagship RLX and Belanger properties located in the Red Lake District of Ontario, Canada.

On September 9, 2020 the Company announced "Straightup Engages Exploration Consultant to Compile and Reinterpret Historical Data on RLX North, RLX South and Belanger Properties, Red Lake District, Ontario" which comprise its Red Lake district property package. Collectively, the Properties form a contiguous land package of over 10,000 hectares partially surrounding Great Bear Resources Ltd.'s Sobel property.

Excitement runs high directly adjacent Straightup Resources' RLX project as Great Bear Resources has announced the identification of gold target zones on its Sobel Property; see related September 9, 2020 news from Great Bear Resources here; on the Sobel property Great Bear has completed 399 samples, establishing a four square kilometre Spaciotemporal Geochemical Hydrocarbon ("SGH") survey similar to that used by Great Bear to successfully identify gold mineralization at the LP Fault, Dixie Limb and Hinge zones at the Dixie property.
On September 9, 2020 the President, CEO, and Director of Great Bear Resources, Chris Taylor, gave a synopsis of what attracted them to the Sobel property and how they identified targets; see 3:15 minute mark of https://youtu.be/kzdE81iT0ns?t=191 online.
Video (above) discussion of Sobel - Great Bear has identified a couple of large anomalies (several hundred meters across each). These anomalies are very similar to what was seen above the zones at the Dixie project.
These SGH sample surveys are a bit of a black box technique, it's basically measuring the metabolic by-products of bacteria and other soil organisms that are eating the mineralization within the gold zone, and it is those metabolic by-products that get analysed in the lab (it is not a gas survey). This SGH survey is exactly what Great Bear used at the Dixie Project to highlight where they would end up finding ultimately the Hinge Zone and the LP fault Zone. Technically the Hinge Zone was found first before they did the SGH surveys, but when Great Bear did the SGH survey, it successfully identified the areas where the gold mineralization was nearer the surface. SGH surveys do not locate gold that is deep, thus it can give false negatives. It is however a technique found to be effective, cheap to implement, and is a good first-pass method of identifying zones under cover.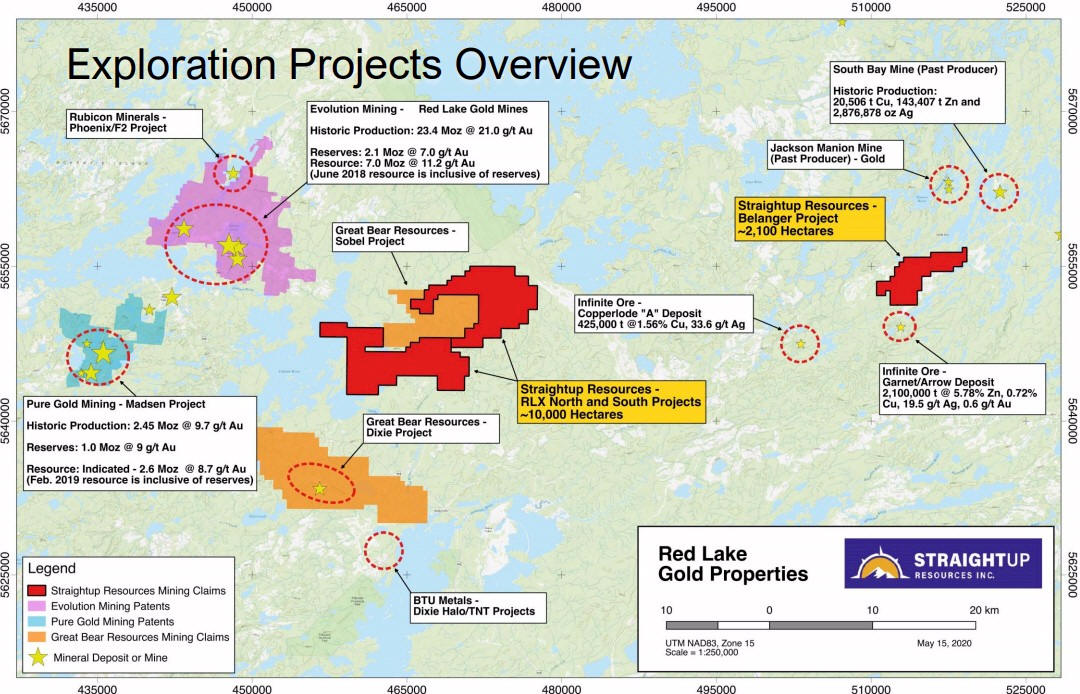 Figure Figure 3. (above) Map of Red Lake District showing area projects/players, Straightup Resources' RLX North, RLX South, and Belanger Properties are depicted in red.

The fact Great Bear has chosen Sobel (which is almost entirely encircled by Straightup) to explore, even before it has calculated a resource on its Dixie Project, shows just how prospective it believes this location to be.

The RLX PROJECT of Straightup Resources is large (~10,000 ha) and offers the big elephant size gold discovery potential with D2 faults interpreted to run through, and on-strike to the SE of the district's largest gold deposit (Red Lake Gold Mines – Evolution Mining). The property is underexplored as it has overburden with little bedrock outcropping, which has limited past exploration efforts in favour of other areas in the Red Lake District. Straightup Resources' technical team will be looking to target the contact zones of the volcanic assemblages that host the gold. A past operator has already drilled one hole (DDH-160-5-1 in the 80s) on RLX North that shows the geological contact between mafic/ultramafic vs. felsic intermediate rocks is present -- a major geological contact similar to what provided a pathway for gold laden hydrothermal fluids for success at Great Bear Resources on its Dixie property.

The BELANGER PROJECT (~2,000 ha) is more advanced, has mineralization at surface, and it brings opportunity for quick news flow with two immediate areas of interest; 1) the Hemming Showings are found in a deformation zone, tracking NE to SW near the middle of the property, that is measured to be at least 100 m wide and possibly a lot wider. The showing produced a selective grab sample which measured ~0.9 oz/t gold. There are a number of gold and base metal showings along that same line strike through the property. 2) The Williamson Showings are where three historic trenches were exposed by past operators; trench C has produced grab samples up to 25 g/t gold, trench E which is 550 m to the NE of trench C has produced selective grab samples of up to 60.44 g/t gold, selected copper grab samples were also pulled from the trenches measuring over 5% Cu. There are parallel deformation zones. Straightup Resources' technical team will be looking at the underlying controls, the big picture, how the gold and copper are distributed, and will develop a predictive model. Already, from drill holes performed by past operator Kings Bay, it is suggesting some continuity to the copper and gold mineralization; DDH 14 & 15 both intersected over 7 g/t gold over narrow intercepts within the broader gold and copper mineralized envelope.

The following URLs have been identified for additional insight on Straightup Resources Inc.:


Corporate website: https://www.straightupresources.com


Recent Mining Journal Review: https://miningmarketwatch.net/st.htm


# #

Other Red Lake Area Mining plays on our watch-list:

Portofino Resources (TSXV: POR)
BTU Metals Corp. (TSXV: BTU)
Infinite Ore Corp. (TSXV: ILI)
West Red Lake Gold Mines Inc. (CSE: RLG)
CR Capital Corp (TSXV: CIT),
Prime Meridian (TSXV: PMR)
Newrange Gold Corp (TSXV: NRG)
First Mining Gold Corp (TSX: FF)
Golden Goliath (TSX-V: GNG)
Battle North Gold (TSX: BNAU)

Evolution Mining Limited (ASX: EVN)




This bulletin may contain forward-looking statements regarding future events that involve risk and uncertainties. Readers are cautioned that these forward-looking statements are only predictions and may differ materially from actual events or results. Articles, excerpts, commentary and reviews herein are for information purposes and are not solicitations to buy or sell any of the securities mentioned.



Contact information:
Fredrick William

Market Equities Research Group


f.william@marketequitiesresearch.com