Market Equities Research - Market Bulletin October 26, 2022 4:08 AM UTC
Québec Nickel Corp Rapidly Developing as Possible Extension of Nickel-Copper-PGE Deposit is Drilled at Depth, 3 Drill Rigs Active on Project
The Fortin Sill Ni-Cu-PGE deposit is rapidly developing, high-grade, and starts at surface.

Drilling on the Fortin Sill Ni-Cu-PGE deposit is building in-part off step-out intersections that include 1.85% Ni, 1.65% Cu & 3.27 g/t Pt-Pd-Au over 8.43 m.

3 drill rigs are currently active on the property, and multiple drill core assay results are pending.

Quebec Nickel's Ducros Ni-Cu-PGE project is an outlier in the Abitibi region for the fact it is yielding grades ~4 - 5 times what is found in the region for nickel, along with spectacular elevated copper, cobalt, platinum, palladium, and gold.
Share data, Capitalization, & Corporate info

Shares Outstanding: ~71.9 million

Recently Traded: ~CDN$0.23/share (CSE: QNI)

52 Week High/Low: $0.41 / 0.09

Current Market Capitalization: ~$16.6 million CDN

Corporate Website: www.QuebecNickel.com
Nickel is an Important Green Energy Commodity and Sulphide Sources of Nickel are Superior / in High Demand:
According to The Nickel Institute, nickel is highly ductile, recyclable, corrosion and oxidation resistant -- characteristics that make it essential for building infrastructure, chemical production, communications, energy supply, environmental protection and food preparation.

Nickel is one of the most important metal alloys in the stainless steel industry and demand is forecasted to increase. Nickel is also a key component of most lithium ion batteries, enabling more energy density. With EV demand on the rise so is the demand for nickel. The trend has been for increased nickel content in EV batteries as energy density is further optimized by various manufacturers; ~20 kg to 50 kg of Ni is in a typical EV battery, depending on make. There is a shortage of the type of high-grade nickel that's needed for EV batteries. Russia has traditionally been a source for a lot of this nickel, however it is now considered black-market. There is a lack of western-world domestic sources of nickel. To quote Elon Musk on July 22, 2020 "Any mining companies out there, please mine more nickel ... Tesla will give you a giant contract for a long period of time if you mine nickel efficiently and in an environmentally sensitive way." Demand for nickel from battery production is expected to increase steadily, and clean 'class-1' nickel is most desirable. The purest nickel comes from sulphide mined sources, they result in a carbon footprint approximately 20 times lower than dirty laterite sources (which require enormous energy inputs to upgrade and generate copious amounts of by-products harmful to the environment).

According to the International Energy Agency, nickel demand is expected to increase 40 times by 2040 to meet the need for energy storage and EV market growth.
------ ------ -----
Eyes on Québec Nickel Corp with Three Drills Active on its Ducros Ni-Cu-PGE Project:
Last week (October 19, 2022) Québec Nickel Corp (CSE: QNI) (OTCQB: QNICF) (Frankfurt: 71B) announced news it has expanded the known sulphide mineralization at the Fortin Sill Zone, Ducros Project, located approximately 80 kilometres northeast of Val-d'Or, Québec. This news regarding the possible extension of the Fortin Sill Zone at depth further affirms the growing voluminous potential.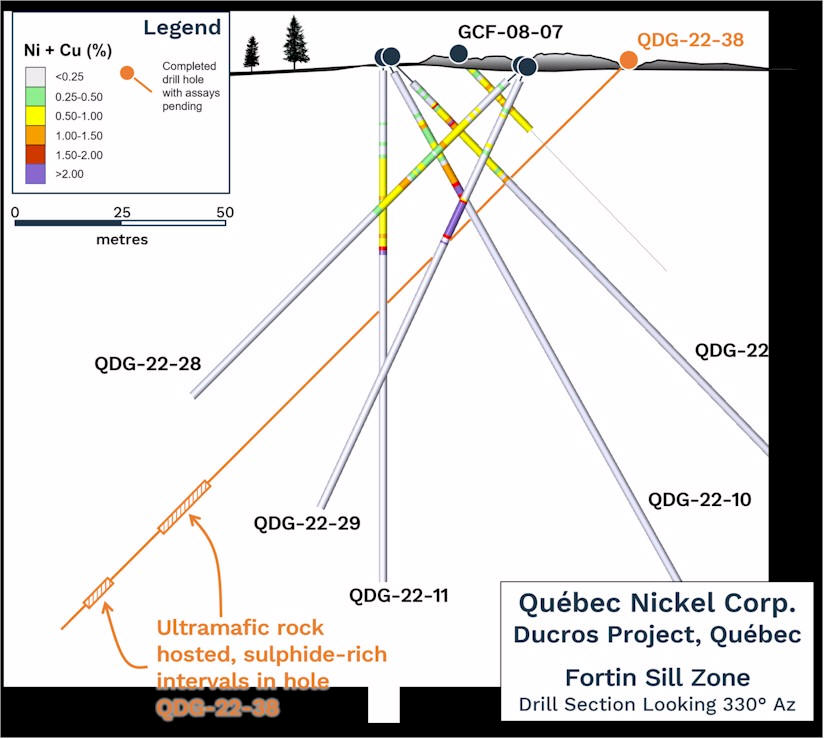 Figure 1. (above) Drill section showing the locations of selected holes completed at the Fortin Sill Ni-Cu-PGE Zone in relation to historical hole GCF-08-07 and the Fortin Sill Zone discovery outcrop.
The new QDG-22-38 sulphide-bearing ultramafic unit occurs approximately 60 metres below and 50 metres to the southwest of the currently known extents of the Fortin Sill Ni-Cu-PGE Zone. Assays are pending, however the abundance, composition and texture of the sulphides in QDG-22-38 appear very similar to the mineralization encountered in hole QDG-22-09 earlier this year; QDG-22-09 returned a 31 metres-wide intercept averaging 0.37% Ni, 0.40% Cu and 0.55 g/t Pt-Pd-Au that includes higher grade sub-intervals of 0.44% Ni, 0.51% Cu and 0.69 g/t Pt-Pd-Au over 18.50 and 0.55% Ni, 0.86% Cu and 0.86 g/t Pt-Pd-Au over 5.0 metres.
Also important to note is that step-out holes QDG-22-28 & QDG-22-29 are ~25 m SE from aforementioned QDG-22-09; QDG-22-29 step-out drill intersection (reported on August 30, 2022) contained 0.59% Ni, 0.54 Cu & 1.01 g/t Pt-Pd-Au over 35.63 m, including 1.85% Ni, 1.65% Cu & 3.27 g/t Pt-Pd-Au over 8.43 m -- The Fortin Sill Ni-Cu-PGE deposit is rapidly developing, high-grade, and starts at surface.
The following URLs have been identified for additional insight on Québec Nickel Corp.:

Recent news release from Québec Nickel Corp.:
https://quebecnickel.com/2022/10/quebec-nickel-corp-drills-possible-extension-of-the-fortin-sill-zone-at-depth/

Company website:
https://quebecnickel.com
SEDAR: URL

Recent Mining Journal Review:
https://miningmarketwatch.net/qni.htm
------ ------ ------
The President & CEO of Québec Nickel Corp, David Patterson, was interviewed on October 20, 2022 as part of as part of a battery metal investment conference, the following video is the related interview segment:
Video source: https://youtu.be/h5FWzRFiLAQ?t=6778
------ ------ ------

Québec Nickel Corp. was formed in 2020 to specifically tackle Ducros, its maiden 20,000 m multi-phase drill program began in Q1-2022. The Fortin Sill Ni-Cu-PGE deposit is rapidly developing, starts at surface and appears amenable to a high-grade open pit scenario. Entering October-2022 the company had drilled ~12,000 m of the planned 20,000 m, it has reported on 29 holes to date, and has core assays pending at the lab to report near-term. Besides its main focus of ongoing continuity drilling at the Fortin Sill deposit, the company is juxtaposing exploration, also looking at targets that are highly prospective for new discovery in other areas of the property (e.g. its Ducros Ultramafic Sill Complex has a drill on site conducting 3,000 m as of mid-September-2022). There are currently 3 drill rigs active on the property, 2 are focused on the Fortin Sill Ni-Cu-PGE Zone.

The geological team leadership, directors, and board of advisors are an impressive who's-who of nickel expertise with career accomplishments across the spectrum from nickel exploration & discovery, development, and major production. Gary DeSchutter, M.Sc., P.Geo., is Vice-President of Exploration for Québec Nickel Corp., he started his career with Falconbridge and transitioned to Anglo American for 6 years as part of their global nickel generation team. Gary joined Québec Nickel in February-2022 -- in-short, he picked Québec Nickel because he knows nickel and was attracted by the anomalous Nickel-Copper-Platinum Group Element (PGE) occurrences and elephant-size potential at Ducros.
Location -- Mining friendly jurisdiction with exceptional infrastructure.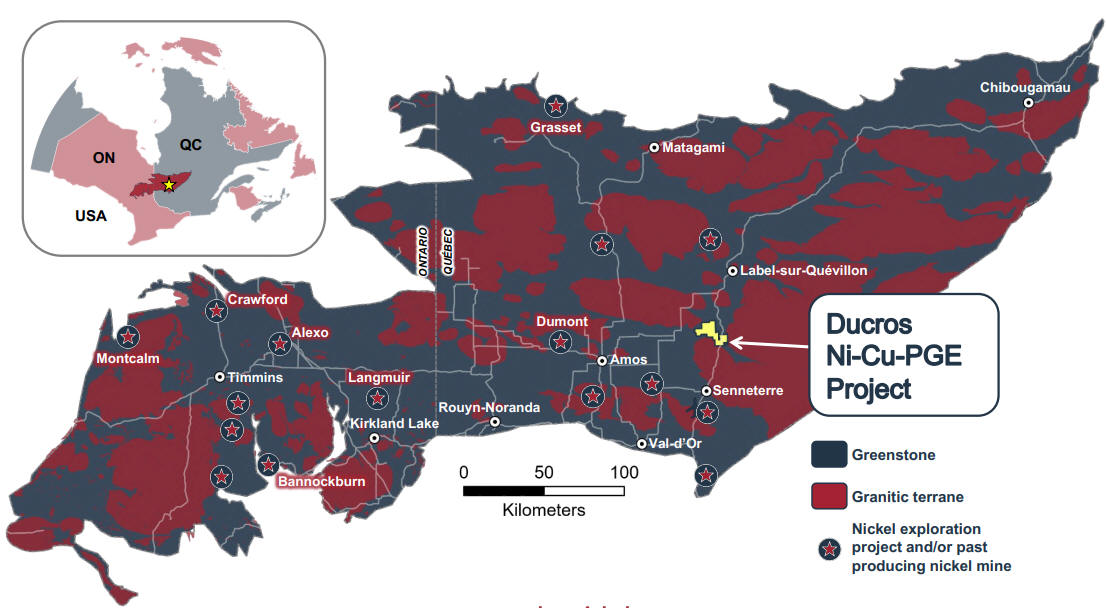 Figure 2. (above) Location map -- Located in the eastern Abitibi Greenstone Belt, northeast of Val-d'Or Québec. The Abitibi Greenstone Belt is ~700 km long and home to numerous Cu-Au producers. The Timmins area has had several past nickel producers.

● 100% QNI-owned – 280 map designated mineral claims totaling >15,000 hectares.


● Located 80 km northeast of Val-d'Or, between the nearby towns of Lebel-sur-Quévillon and Senneterre (2 towns that are driven by mineral exploration and logging, providing QNI access to workforce and support (e.g. labs and drill contractors). Québec Nickel Corp. rents office space in Val-d'Or and is logging its core there. Additionally, Québec Nickel Corp. is actively populating a data-room to facilitate majors/entities that sign a CA. Val-d'Or is a huge gold town with 4 operating mills with another 2 set to come online -- no need to sleep in tents and no need for choppers -- the team can hit the property in ~50 minutes from Val-d'Or.


● Provincial Highway 113 crosses east side of property + network of logging roads.


● CN Rail line and power within five kilometres of property.

● There are 2 small airports ~15 minute drive either side of the property, North & South.


● Mining-friendly jurisdiction at the local, provincial and national levels. Québec Nickel Corp. has already begun environmental and community work behind the scenes.


# #




This bulletin may contain forward-looking statements regarding future events that involve risk and uncertainties. Readers are cautioned that these forward-looking statements are only predictions and may differ materially from actual events or results. Articles, excerpts, commentary and reviews herein are for information purposes and are not solicitations to buy or sell any of the securities mentioned.



Contact information:
Fredrick William, BaEc.
Market Equities Research Group
f.william@marketequitiesresearch.com